Moving forward from East Timor Solution
JULY 21, 2010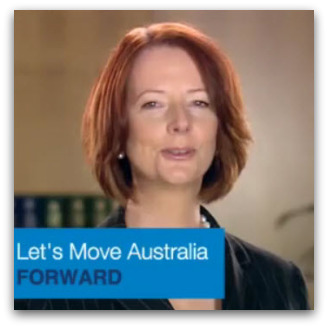 The Australian people are now deciding whether they want to 'move forward' with Julia Gillard or 'stand up for Australia and for real action' with Tony Abbott. In the mix is the divergent stand on the processing of unvisaed asylum seekers.
The Rudd Government scrapped the Pacific Solution and temporary protection visas (TPVs), insisting that detention of asylum seekers would be a last resort with an assurance that health, security and identity checks would be complete within 90 days.
The Opposition insists that these reforms put sugar on the table attracting asylum seekers to engage in secondary movement so as to obtain a more benign migration outcome. The Abbott led opposition would take the sugar off the table reinstating TPVs and the Pacific solution.
Mind you, there is no evidence that TPVs reduced the attractivenes of Australia as a destination, given that boat arrivals increased the year after TPVs were first introduced. The initial deterrent effect of the Howard Pacific Solution was the pronouncement by the Prime Minister that proven refugees would not be allowed to settle in Australia. Most of them did eventually settle in Australia or New Zealand, being indifferent about which side of the Tasman ditch they ended up.
So the practical deterrent effect of TPVs and the Pacific Solution second time around is now in doubt. It's like the threat to turn around the boats. These 'deterrents' do not work and people keep coming whether or not there is sugar on the table. The asylum seekers figure, 'At least there is a table. We may just have to wait longer.'
There is a new common thread between the major parties. They are both open to the idea of a regional processing centre for asylum seekers who reach the region in direct flight from persecution in faraway places like Afghanistan, Iraq and Sri Lanka. Gillard, at pains to distinguish herself from her predecessor, has publicly floated the idea of a regional processing centre in East Timor.
Given that Kevin Rudd refused point blank to discuss the matter with Jose Ramos Horta, President of East Timor, on his state visit to Canberra on Rudd's last day as Prime Minister, Gillard decided not only to raise the topic with him but to herald the conversation even before Australian officials had the opportunity to discuss the matter with the governments of East Timor and Indonesia.
This was a move designed purely for domestic electoral consumption, taken with a reckless disregard for the niceties of international diplomacy.
The Timorese are used to short term, half clever ideas from Australians when dealing with asylum seekers. Back in 2001, the Howard Government, wondering what to do with the 433 persons on board the Tampa, asked Horta and other Timorese leaders to take them, as a favour. The Timorese were minded to help out their big neighbour, in part as a gesture of thanks for all Australia had done for them.
Sergio De Mello was head of the UN in Timor in those days. He had worked for UNHCR and insisted that such a move would be unprincipled. It was, and it did not happen.
A regional processing centre may be a good idea. Its location in East Timor would be unprincipled and unworkable. Gillard's pre-emptive announcement will ensure that it will be anywhere but East Timor.
The Europeans have been trying for years to float the proposal of a regional processing centre. It has got nowhere. A decade ago, Philip Ruddock even sounded out the Indonesians about the lease of an Indonesian island for such a centre. He got nowhere. If such a centre were to be established, there would be a need to fulfil the following conditions:
Humane detention

Transparent, timely and fair processing

Reasonable access for lawyers, health professionals and other support personnel

Prompt resettlement on establishment of refugee claims

Local community acceptance of the facility

Avoidance of the honey pot syndrome

Assistance to those whose asylum claims are rejected for safe and well-organised return to country of origin
Presuming the major political parties agree to these preconditions, the matter should now be put aside during the election campaign, allowing the new government of whichever persuasion to work through the detail of these preconditions.
Health Minister Nicola Roxon rightly concedes there would be a need to consider the psychological health of people, including children, in such a facility. There would be a need to consider how the 90-day rule for processing might be fulfilled.
When the Pacific Solution was in place, my own visa to visit Nauru at the request of the Church community there was cancelled peremptorily by the Nauruan government. Ruddock assured me he had not blackballed me but he 'could not speak for Alexander' (Downer).
Access would need to be assured, even for do gooders!
A true regional response to the issue would include the possibility that refugees could be resettled in any of the participating countries, including East Timor and Australia.
When a detention centre was set up at Baxter, many local residents at Port Augusta complained that the detainees received better food and services than they did. Such complaints will be commonplace and even more justified in places like East Timor.
If the centre were located in East Timor, the thousands of asylum seekers waiting in Java could simply ride the ferry to Kupang, travel overland through the porous East Timor land border and ask for residence in the regional processing centre, awaiting prompt resettlement in Australia or New Zealand. That would be a real honey pot.
In principle there is nothing wrong with a regional processing centre. But its location and working principles await more mature consideration than Gillard gave in her Lowy Institute address. No matter who is elected to govern, they will readily appreciate Rudd's hesitation in raising the matter directly with Horta.
This idea requires a lot of detailed diplomatic work behind the scenes. If Gillard is elected Prime Minister, it could be Rudd's first real test as Foreign Minister. Whoever is elected, and wherever such a centre is located, it will not be East Timor.
To 'move forward' together and 'take real action' on this issue, we will need to look elsewhere in the region.
---

Fr Frank Brennan SJ is Professor of Law at the Public Policy Institute, Australian Catholic University, and Adjunct Professor at the National Centre for Indigenous Studies, Australian National University.