Asia's new backpacking hot spots
Much of south-east Asia and India is a backpacker's superhighway, chocka' with travellers. But there are always great places to discover off the beaten track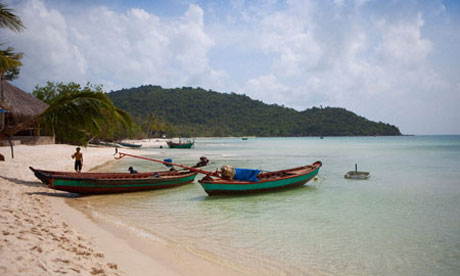 South-east Asia
The stunning and mountainous northern province of Nan, which was semi-autonomous until 1931, has recently opened its border crossing into Laos, providing a quick route to the famed royal town of Luang Prabang. Nan town, boasting the best-managed historical centre in Thailand – complete with temples and crumbling teak buildings, looks set to become an important stop-over on south-east Asia's backpacker trail. Hot Bread, a small cafe on Suriyaphong Road is an excellent source of local information. The family also runs a renowned noodle place next door. Further north, near the small town of Pua and the 1,980-metre Doi Phu Kha mountain, the rice terrace landscapes are simply jaw-droppingly impressive.
Andrew Spooner
Cambodia's second biggest city, Battambang, is turning into the most engaging city in the country. Its proximity to the Thailand border makes it an excellent stop-off point for travellers en route to the temples at Angkor or the Cardamom mountain range in western Cambodia. The town is filled with French-colonial era villas and shophouses, many of which are now being restored – some, such as Ma Maison and La Villa (lavilla-battambang.com) have been converted into accommodation. Nearby are the Angkorian-era ruins at Phnom Banan, while at the village of Ban Odomboing the popular and surreal bamboo train – a flat, homemade bamboo platform placed on rail wheels and then powered by an outboard motor – is one of the most remarkable public transport efforts on the planet. Try cocktails at the laid-back Riverside Balcony Bar, or one of the tours put on by the Bamboo Train Cafe. AS
Nong Khiaw, Laos
While Luang Prabang attracts all the plaudits, it certainly attracts a hell of a lot of tourists, too. To get away from them, savvy travellers are now heading about 60 miles north up the Nam Ou river from Luang Prabang (boats still provide regular transport) to the misty riverside town of Nong Khiaw. Buried deep in the forest and surrounded by dramatic limestone karsts, Nong Khiaw is an evocative and pretty place to spend some time. From here you can rent boats to take you on the spectacular journey up Nam Ou to the towns of Muang Khua and Muang Ngoi. But Nong Khiaw's biggest attraction is that it's the kind of place where time feels like it is standing still. Many visitors plan on just passing through – plenty decide to stay for longer. The Phanoy Guesthouse, Bakery and Bookshop, 50m past the bridge, has everything the discerning backpacker could need. AS
Like Bali without the bells, Timor-Leste offers backpackers a chance to enjoy life in the slow lane. The half-island nation is still finding its tourism feet, so the few curious travellers who take the leap of faith invariably find themselves padding along empty beaches or swimming in natural rock pools with only the birds for company. Splash out a few bucks to hire a motorbike for the day in the capital Dili, from the Dili Backpackers hostel or nearby Tiger Fuel (Mandarin area), and make the breezy coastal ride 45 minutes east to Dollar Beach. There, it's all about snorkelling or lolling about in the sun while you wonder to which parallel universe all the other tourists have vanished. Even more remote is the Tua Koin eco-lodge on Atauro island (atauroisland.com), where the simple life is served up with huts right on the beach – catch the Berlin Nakroma ferry from Dili to the island.
Matt Crook, co-author of Footprint's Thailand Handbook
Phu Quoc Island, Vietnam
While Phu Quoc is on the road to becoming a fully-fledged developed resort island, it still offers some of the best and most accessible Vietnamese beaches for backpackers travelling on an overland route from Cambodia. There are plenty of gorgeous spots, such as the Dai, Sao and Kem beaches to laze away the days. There are also a few nearby islands just to the south to where it's easy to organise snorkelling trips. The lush interior is home to thick forests and a couple of temples dedicated to whales and dolphins. Try the My Lan restaurant on Sao beach for fresh seafood and an evening drink. AS
Assam
A short flight from Kolkata or a two-hour flight from Delhi lies the city of Guwahati, the gateway to little-known north-east India. Take a shared jeep to Shillong in neighbouring Meghalaya, dubbed the "Scotland of the East". Wander around the scenic hill station, then pack your umbrella and head to Cherrapunjee, officially one of the wettest places on Earth. Spend a day trekking down the valley to the remarkable living root bridges across streams, which the Khasi villagers have made from the roots of trees. Meander through picturesque hillside villages and lush green vegetation. This world straight out of Tolkien is perfectly do-able for people on all budgets.
Rahul Aggarwal, co-founder of adventure tour operator Travel The Unknown (traveltheunknown.com)
Surfing ashrams, Karnataka
The swamis at Mulki in Karnataka, in southern India, are offering a heady combination of tropical sea, fun surfable waves, a warm welcome and the chance of a detox at their ashram surf retreat. The fusion of surfing and yoga (so, vegetarian food and no smoking or drinking) has lured me to visit more than once and befriend many of the disciples. It has six bedrooms, and operates like a normal ashram.
So taken was I by their way of life and their generous hospitality that this winter I'm attempting my own version down in Kerala, near Varkala, in the form of the Soul & Surf House (soulandsurf.com; £200pp per week; yoga £5 per class; surf boards £7.50 per day), which we're due to open in mid-October. We'll offer homestay-style accommodation in our own home, surfing, beach bonfires and sunset yoga.
• The Mulki surf retreat (surfingindia.net) reopens 15 September after the monsoon; doubles from £47 per day, singles from £34 per day; surf lessons £20 per day. Unfortunately, single women unaccompanied by a man aren't accepted

Ed Templeton, graphic designer and writer, currently travelling for a year
source: GUARDIAN